Since time immemorial, the term 'customer delight' has been used in many board room discussions. The focus of 'experience' and 'delight' has always been the customer, seldom, the employee. This changed, to an extent, in the early 2000s when businesses began pursuing 'employee satisfaction'. At the turn of the decade, the focus shifted towards 'employee engagement'. Today, business focus has shifted towards creating a delightful employee experience (EX) which bundles it all – satisfaction and engagement.
So, what is EX?
Simply put, it refers to the sum of all interactions an employee has with the employer.
Jacob Morgan, a leading authority on EX and the Future of Work, defines it as 'an organisation creating a place where people want to show up instead of assuming that people need to show up.' It is about putting people at the centre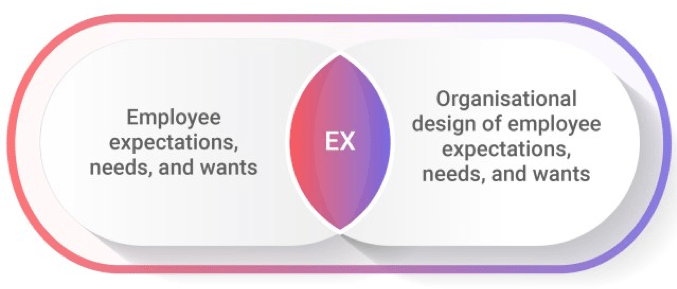 This is what a well-designed Employee Experience looks like
How does one design EX?
New-age, progressive organisations like Google, Facebook etc. have applied the fundamentals of delivering superior customer experiences (CX) in designing their EX.
Personalisation

: As with CX, personalisation is critical to any successful employee experience strategy. This involves the creation of employee personas based on shared characteristics, tastes and preferences and delivering target experiences to each persona set. Digital platforms can be used to drive this
Moments that matter: Identify these moments – professional and personal and make them special. So memorable that it results in strengthened engagement and increased productivity. It could be related to the work environment, interactions with others or tools/technologies enabling them to perform on the job
Co-create: Engage with employees, and not just leaders, to create the most relevant and valuable employee experience for your organisation
Tidy up: Declutter your processes. Say goodbye to processes/steps that do not add value but end up wasting hours and hours of the employee's time
How does focusing on EX help business?
Shortage of quality talent is a never-ending problem. A superior EX gives employers a competitive advantage in attracting talent and providing them with experiences that encourage them to stay back. Also, millennials will comprise more than 75% of the global workforce by 2025.
Studies have revealed that they most seek meaningful work, flexibility, autonomy, human connect and mentoring. The growing popularity of websites like Glassdoor has made it easier for talent to look beyond EB campaigns and skilful recruiters to make an assessment of the employer they are considering. A recently published study by Jacob Morgan found a direct correlation between EX and business performance.
One of the metrics used to measure the impact of EX was the companies' appearance in the 'Best of' lists; it was found that companies that invested heavily in EX were:
Included 11.5 times as often in Glassdoor's Best Places to Work
Listed 4.4 times as often in LinkedIn's list of North America's Most In-Demand Employers
28 times more often listed among Fast Company's Most Innovative Companies
Listed 2.1 times as often on the Forbes list of the World's Most Innovative Companies
Twice as often found in the American Customer Satisfaction Index
More importantly, the study found that companies focused on EX had more than 4 times the average profit and more than 2 times the average revenue.  They were also almost 25 per cent smaller, which suggests higher levels of productivity and innovation.
Thus, if business success is what you seek, 'Experience' should be your priority, be it your customer or your employee